"Do you want to be Queen for a Day?" For over 20 years, this question could be heard in American households five days a week, as it introduced one of the most popular television shows during the 1950s and 60s. Queen for a Day was a daytime television program that served as a precursor for reality television today. Hosted by Jack Bailey, the show first aired as a radio program in 1945. It began airing on local Los Angeles television in 1947, until it was picked up by NBC in 1956. The Show remained with NBC until1960 before moving to ABC, where it remained until 1964.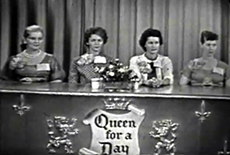 At the time, Queen for a Day served as a modern day rags-to-riches reality show. Broadcasting live from the historic theatre-restaurant, Moulin Rouge, in Hollywood, each episode would consist of three to four women competing to become Queen for a Day. The women revealed their most personal stories to the American public. Audience members then decided which woman's story was most heart-wrenching (by use of the applause-o-meter) and the winner was crowned Queen for a Day. The selected queen was dramatically adorned with a crown, robe, and roses. They received gifts such as appliances, fully paid nights out, and many many other prizes, known today as "product integration."
Viewers tuned in to watch these Cinderella stories in the making. Through the revelations of these women's trials and burdens, the show was able to reach its audience on a more personal level, and allowed it the opportunity to help better someone's life. This concept made the show such a huge success that its running time was increased from 30 minutes to 45 minutes.
Although the show ended in 1964, its impact went beyond the women it helped. The show was the inspiration for the 1951 movie, Queen for a Day, and was the basis for many other televised programs .Furthermore, this concept of ordinary Americans opening up their personal lives in front of millions of people has become the basis of reality television today.
Spanning over three decades, Queen for a Day enhanced the lives of women and joined American's on an emotional level. As Jack Bailey would say in his trademark signoff, "Make every woman a queen, for every single day."
Today, "Queen For A Day" is owned by Michael Wortsman, a media executive with over thirty years' experience in television, radio and print media. The show recently aired in Puerto Rico with excellent ratings and is now being developed for U.S. Television. The original format has been revised and the show is now a celebration of women making a difference.
Only a few complete episodes remain of this classic television program. They can be viewed in their entirety at the Paley Center for Media (Museum of Television& Radio) in Beverly Hills or you can see clips here on our Queen For A Day classic page.